Above the Noise: How Canadian Universities Can Improve the Conversation about Sino-Canadian Relations
It seemed like only yesterday that the American international higher education community was concerned that political uncertainty in America was driving international students to other countries in droves. In the past few years, international student numbers have been growing in Canada faster than the US. Inside Higher Ed summed it up well: "Perhaps no country has been taking more advantage than Canada, where politicians and university leaders alike have seized on the opportunity to brand the country as a proudly multicultural, welcoming destination." Fast forwarding to today, Canada's status as a rising star destination for international students is less certain. To maintain their edge important sending countries like China, Canadian universities need to work hard to show up on the Chinese internet and dispel misleading news that casts Canada as a risky or unfriendly destination.
The Rollercoaster of the Last Quarter
2018 ended tumultuously for Canadian higher ed. A diplomatic volley with Saudi Arabia threw into question the fate of about 10,000 Saudi students studying in Canada. Now it seems that this uncertainty extends to Chinese students, who make up about 1/3rd of all international students in Canada (15 times more than Saudi Arabia) and account for more than $5 billion in economic activity.

The recent Sino-Canadian friction began in December 2018 when Canadian authorities detained Meng Wanzhou, the CFO and daughter of the founder of Chinese telecoms giant Huawei. Although Meng's detention was related to an extradition request by the US, the Chinese government quickly retaliated by arresting 13 Canadians in the following month, including a diplomat on national security grounds.
Tensions spilled over into higher ed this month when Chinese students organized a petition to oust the newly elected student president of the University of Toronto Scarborough Campus because of her "Free Tibet" political stances. Days later, Chinese students at McMaster University reported, filmed, and later interrupted a speech by a prominent Uighur activist on campus. Both incidents seemed precipitated by Chinese students who felt that Canadian universities were facilitating and encouraging speech that was "separatist" or "anti-Chinese". The Chinese embassy in Ottawa entered the fray, supporting the "just and patriotic actions of the Chinese students" but also stressed that these activities were not organized by the embassy itself.

Credit agency Moodys cautioned that, if China recalled a significant number of its students from Canada, at least three Canadian universities would have a cash crunch, noting that Chinese students make up ¾ of the international students at the University of Toronto and a high share of those at UBC and McGill. "The intensification of political tensions between the Government of Canada and the Government of China poses credit risks for Canadian universities," the Moody's report warns.
Of course, Canada isn't alone in its dependency on Chinese international students. The US and Australia saw similar debates about free speech and issues of sensitivity to Chinese students last year.
How This All Looks in China
Because of China's more restricted media landscape, Chinese parents and prospective students have somewhat more limited sources of information about how these trends will affect them. Many people in China get their news from social media platforms like WeChat and Weibo, where one can find stories indpendantly and interestingly written, in contrast to that of China's bland state-run media. Yet bad information and fake news can spread quickly on Chinese social media, and, for a publisher looking for more clicks, it's easy to airbrush over the difference between stories about an manager at a high-profile Chinese tech firm as opposed to the experience of an average Chinese student in Canada. The problem isn't just limited to the information echo chamber effect of social media: Baidu, China's most popular search engine, routinely pushes unreliable and often unedited articles from its own media platform, Baijiahao, towards the top of search results for important searches like "China Canada conflict" and "Chinese Students in Canada".

Articles and messages on Weibo claiming that it is getting harder for Chinese travelers and students who want to study in Canada to get Canada visas.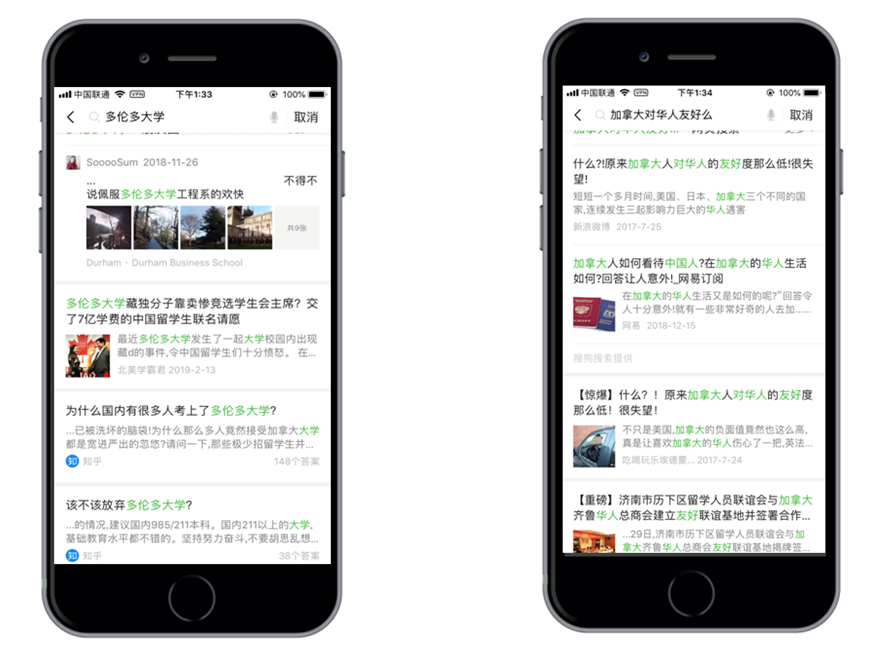 The first Wechat search result for the "University of Toronto" is about the "Free Tibet" protest.
Searches on Wechat for "How do Canadians view Chinese people?" are full of negative pieces.
How Can Canadian Universities Speak Above the Noise?
For Canadian universities seeking to reassure prospective Chinese students and families, we recommend working backwards and ask yourself: how does a Chinese student or parent get information about studying in Canada? Chances are, they'll do their own research on Baidu or other search engines like 360, Sogou, and Shenma. They'll keep their eyes peeled for relevant information on social media platforms like Wechat and Weibo. They'll ask their overseas study counsellor, who might work out of a school or at a private organization.

Communicating with your counsellors and partners often is an important first step. But to shape online discourse in China, it's important to go a step further. To show up and boost a post on Weibo, we suggest creating a verified Weibo account and a thoughtfully crafted campaign. And if you have a large Chinese community, an official Wechat account that your office controls can help shape the dialogue on campus (universities like Lakehead and UOIT have already done so). Chinese language SEO or pay per click campaigns can also help turn the tide of discussion, and Chinese search engines are much more "advertiser-friendly" once you get set up with advertiser accounts on the platforms. On the other hand, Chinese search engines heavily favor Chinese-language websites and pages hosted in China, so having a .cn domain and a Chinese website is a big first step.

For your messaging, we think it's important to craft a story of inclusion and understanding on your campus. Highlight positive stories and testimonials from students and recent graduates. Perhaps join forces with other Canadian institutions, similar to the #YouAreWelcomeHere campaign which emerged in the US in response to Trump's "Muslim Ban". Adapt and learn from how American universities responded to America's own Chinese student visa panic in 2018. Tell the story of how your community and your institution's history go beyond the daily ebb and flow of politics and the news cycle.
Need help crafting a narrative or reaching more Chinese students online? Feel free to message us; we'd love to hear from you and share some advice.
Top Baidu search results about the Meng Wanzhou and U of T incidents include no results from Canadian sources.